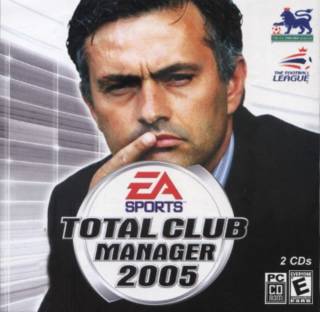 Finally, the game that I've been waiting for had been released yesterday. Terima kasih la kat abang aku sebab belikan game ni untuk aku. Sebab dia tau yang aku memang tengah tunggu game ni. Berapa kali ntah aku turun naik Low Yat Plaza cari game ni tapi tak keluar2 jugak. Although it's release date was due on late October, tapi risau gak sebab EA memang terkenal dengan meng'delay'kan product diorang.
FYI, aku memang pengikut setia TCM sejak 3-4 tahun lepas lagi. Cover 2003, ex-coach Newcastle; Bobby Robson. Cover 2004, coach Celtic; Martin O'Neill. But why they put Jose Mourinho on this year's cover? Kenapa x letak Alex Ferguson ke, Dollah Salleh ke, Klaus Schlappner ke.... Tapi aku rasa mmg patut pon, yelah mamat nih dah bawak Porto jadik juara Champions League last year kan...
Game ni mmg lack of simplicity. For totally beginner, korang akan pening giler ngan interface dia. Even bagi aku pon, agak memeningkan. But once u got comfortable with it, surely u'll become addictive. Same thing happen to my roommate in Shah Alam. Asal free je, terpacakla dia kat depan PC melayankan AS Roma dia.

The other night, aku ngan member2 aku gi tengok Man U -vs- Arsenal kat Seri Gombak. Biasa la maple, pasang screen besar. Sampai kat atas jalan dia letak kerusi meja, tu pon x cukup lagi. Mmg ramai yang datang. Aku yang datang lewat 35 min kena la bertenggek kat tepi longkang. X pe, Man U punya pasal. Aku ngan member2 aku support Man U (campur la sorang peminat Chelsea ni). For me, the game was packed with physical challenge from both side. Couple of yellow cards was issued by ref Riley. I thought that the game will ended with draw, but the moment Campbell brought down Rooney in their penalty box, I knew that things going to change afterwards. Same thing happened when both team met last year, but this time, Nistelrooy managed to send Lehmans to the wrong side. Time tu mmg riuh giler. Semua happy except peminat Arsenal la (aku rasa brader sebelah aku tu samada peminat Arsenal @ mmg cool sebab x de expression langsung bila Man U score)... BUT Nistelrooy, I knew that he did that tackle on purpose. Although I'm their big fan, but I think he deserve at least a yellow card + few games ban. Tapi overall, mmg layan match tu. Clash of the titans as I referred it. Arsene Wenger punya la x puas hati sampai bergaduh dalam player's tunnel termasuk la adegan membaling makanan daripada Arsenal nyer changing room. Abis kuyup Ferguson dgn sup. Arsenal...Arsenal... dah la kalah, membazir lak tu.
Latest update as for now; Man U is trailing Arsenal with 8 points and 6 points behind Chelsea. Nistelrooy accepted his 3 matches ban and Arsenal now been investigate for the buffet massacre and player's fight in the tunnel. Good luck on that.
As for Arsenal, I still remember the last word I said before I headed home that night; "U aint got no 50". -GLORY-GLORY MAN UNITED!!-